Welcome to the Feeling Better Scent
This scent is very easy and simple to explain because its purpose is to "help you feel better"
You know when you're feeling out of sorts, a bit down or just plain tired – this scent will help shift that energy and gently lift your vibration so you start to feel better.  All you need to do is light the candle, burn some melts, pop some oil in the burner or diffuser and breathe it in.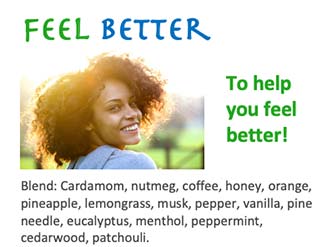 If you'd like to amplify the energy and feel better fast, then say this affirmation.
 "I am open to feeling better and lifting my energy" when you inhale it.
The last few weeks were really dark and difficult for me. It was the lowest I had felt for a very long time.  I remember looking at what candles to use and I turned to 5D Cleanse and then Feel Better.  I remember thinking "man this really has a big job to do and really doubted if either of the scents could shift my emotions.  Of course I should know better because even if you don't use your intention with the scents, they still work! The next day I woke up feeling alot better and I've almost use up my candle because I cant stand feeling like crap.  Once again, very grateful for this powerful scent.  Anjie
If you're having a hard time, we offer these Support Sessions?