How our Scents can help you…
Did you Know?
that when scent enters the nose, it travels through the cranial nerves straight to the olfactory bulb, which helps the brain process smell? This bulb is part of the limbic system and can easily access the amygdalae, a group of nuclei which play a vital role in our emotional memories.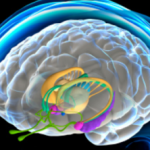 The olfactory bulbs (green) transmit smell information from the nose to the brain, necessary for a proper sense of smell.

The amygdalae (pink) (singular: amygdala) perform a primary role in the processing of memory, decision-making, and emotional reactions!
Why are these Scents are so effective?
Smell can change our behavior entirely as fragrance expert Roja Dove discloses: "Scent is our first response to encroaching stimuli, whether that's sniffing sour milk before we drink it or smelling a fire before we see it, often making us have a reaction. It's the same with soothing scents – they have a cocooning effect that relaxes us, makes us feel at home and create a sense of peace!"
"Scent can absolutely act as a form of therapy, connecting to your moods and feelings via the limbic system," explains perfumer Azzi Glasser.
"That's why children often sniff their teddies and blankets; certain smells bring us comfort." Being enveloped in scent is a cognitive and fragrant hug of the most cushioning kind.
The healing power of Scents
"Immediately after the accident I found myself wearing certain fragrances to bed to provide midnight reassurance – it seems to be the time your mind wants to race to needlessly distressing places."
The scent is processed with the olfactory bulbs, which then triggers emotions, memories and decision-making processes!
3 Easy ways you can use the scents
Depending on your level of awareness there are several ways you can use the Scents…
1. Purpose guided use
Depending on your intention, each scent label has a name which is usually the purpose. So if you know what purpose you want to achieve you would just use this method. Here's a quick example:  If you need to Let go of something, you would choose the Letting Go scent.
The next step is to think about the emotion, feeling or thought that you want to Let Go of, and light the candle, sniff the diffuser, put on the melt and allow the scent to help shift the emotion.  Once you've felt that shift, you then select another scent to help you keep moving forwards.
2. Use your Intuition
If you trust your intuition, you'll be able to walk up to your Scent collection and know exactly what Scent to use.
3. The 'sniff-test' way
You can find the scent that 'smells good' to you by allowing your nose to guide you (this is using your physical olfactory intuition as mentioned above.) You'll find that when you sniff a scent, you'll either totally love one or you might not be able to stand the smell of it.
Most of the time the scent you need is the one you are drawn to however sometimes it works in reverse where you need to use the scent you might not like but the purpose is what you need. In this case you use it until love the smell because thats when the jobs done!
Something unique about the scents that you need to know….
Yes today, No tomorrow, yes again next week?
These Scents can smell different to you on any given day, as your needs, emotions and intentions vary based on your vibration and what's happening in your life at that moment.
Because our Scents are blended for specific purposes, certain scents resonate with you one day, but won't the next.  What's really unique is that a week later it's your absolute favourite again. That's why most of our customers, have each and every scent because they understand the power and "how to use the scents" and trust in the purpose (not focusing on the ingredients)
How you can use the Power of Intent with our Scents...
If you know the emotion and feeling that you want to shift, you then smell in the scent and release that emotion/feeling.
As the scent travels through your body, it will help shift the emotion that is most likely sitting somewhere in your body.
As you keep doing this, the body will release and shift the emotion. It can clear the block and help you create new positive feelings. 
Are you ready to get started?
Welcome to our Collection Trial Kits

If only we could sniff through the internet right? But we can't, so we've created these trial scent packs which contains all scents in a collection which consists of 6-7 Scent Sachets.
The benefits of the trial kits are:
You can trial them as a melt
Sniff them to help you experience the scent
Carry a few in your bag and inhale when needed
P.S If you would like to get a jump start, you order more than 1 trial kit today, we'll also give you FREE POSTAGE & $5 off each one but only whilst stocks last
Scents Samples you can experience…